Details

Category: General
Published on Saturday, 07 January 2023 02:28
Written by Administrator2
Hits: 371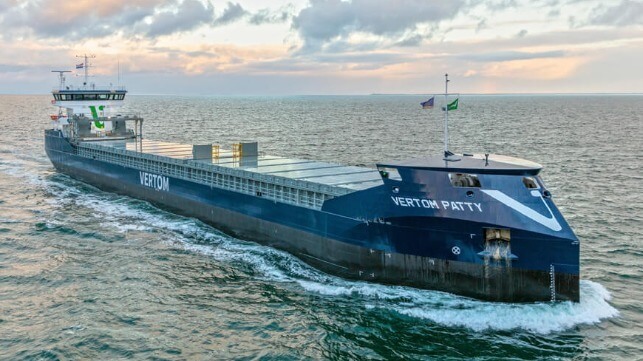 Vertom Patty is a hybrid-electric vessel ready for methanol or hydrogen (photos courtesy Thecla Bodewes Shipyards)
The first ship in a series of new highly efficient shortsea cargo vessels entered service at the end of 2022 continuing the evolution of the segment. In addition to having an efficient design and innovative power plant, the Vertom Patty was designed to anticipate future trends. Her electric power plant is ready for conversion to methanol fuel or hydrogen power.
The Vertom Patty was built at the Thecla Bodewes Shipyards in The Netherlands for Vertom, a Dutch shortsea shipping company with a fleet of approximately 100 vessels ranging between 1,500 and 10,000 dwt. The first of six ships that the group ordered from the shipbuilder, the Vertom Patty is 390 feet long and 7,000 dwt.
The LABRAX design was developed to Vertom's requirements and to provide both a highly efficient ship as well as one with versatility in its cargo operations. The completely box-shaped cargo holds ensure optimal loading flexibility and maximum cargo intake. The vessel is capable of grain or bale loading and can also transport containers with a capacity of up to 56 TEU.
During detailed engineering for the ship, computational fluid dynamics (CFD) optimization was performed for the hull designs for a fuel-efficient speed-power performance powered by a future proof modular electric propulsion system. Vertom says the system distributes the vessel's energy load more efficiently, by using four smaller engines that adjust to the current sailing profile for the most efficient combustion.
This hybrid concept is also designed to be ready for future developments. It will be possible to convert the vessel's propulsion to either methanol-electric or hydrogen-electric. The company has also begun exploring the use of wind-assisted propulsion recently installing wind foils on two of its vessels for testing.
Vertom says the innovative hybrid design of the LABRAX vessels is an important step in its target to reduce carbon intensity by 40 percent by 2030.
Vertom Patty was launched in late September 2022 while the keels were also laid for the second and third ships of the call. The next two vessels will be Vertom Cyta and Vertom Tooma. The second vessel is due towards the end of April 2023 and the full class is scheduled to be delivered by mid-2025. Vertom Patty completed her sea trials at the beginning of December before the handover.
The vessel's maiden voyage began on December 30 from Delfzijl, The Netherlands to Santander Spain. She is operating the voyage for OCI Nitrogen, a producer of nitrogen products for use in agricultural and industrial applications.